This past Monday was the feast of the dedication of the Basilica of St. John Lateran.
Today is the Feast of St. Martin of Tours, the patron saint of the
church
I attended as a little girl.
These two feasts, so close together, make me think of the importance of church architecture and beauty. I like beautiful churches. A church that is bare white plaster walls, with few saint statues and no stained glass, does very little to lift my mind and heart to God.
The purpose of church architecture--the high stained glass windows, pointing up towards the sky, towards heaven, towards God--the windows themselves, telling stories of saints' lives, the lives of Our Lord and His Blessed Mother--is to raise your heart and mind to God, to create an atmosphere that is conducive to prayer and not distracting, and to help you worship God.
This is the sanctuary at St. Martin of Tours. My mother and I went to Mass here at least weekly--sometimes daily--from the time I was 8
½
until I was almost 12:
This is the Adoration Chapel, where my mother and I made a weekly Holy Hour:
This is the organ,
imported from Germany in the 1800's
: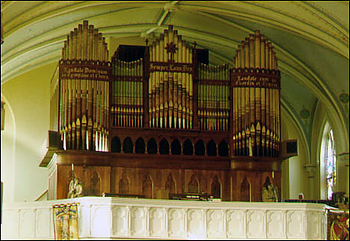 This is why I tell my friends that I'm spoiled when it comes to church architecture.
A church like St. Martin's, with its high altar, saints' statues, and
saints' relics
, was an excellent inspiration--even to my child's mind and heart--for prayer.
"This is the house of God and the gate of heaven."